Accessible only by boat or paddle, the white sandy beaches, the transparent turquoise water and the heavenly setting makes Pinel Island a perfect little paradise.
ABOUT
Îlet Pinel or otherwise known as Pinel Island, is a small slice of Paradise right off the North Eastern coast of French Saint Martin. Being part of the French Marine Park, the island remains preserved and protected from further development and environmental harm. This also means that fishing and jet skis are strictly prohibited.
Pinel as we have known it for a many years, is uninhabited by humans, but does house 3 businesses, of which 2 are restaurants and one is a small boutique. The boutique in fact was the very first shop on the island which was run by a wonderful man named Tom, who some to this day might even refer to as 'King Tom'.
Many a visitor will remember Tom as a wonderful soul, who genuinely turned your visit on the island into a memorable experience. Having travelled for many years, the Dutchman settled on Saint Martin soil where he slowly became the legend of Pinel. Passionate about what he sold, he offered his unique range of products with great charm.
Tom remains the face of Pinel, despite having sadly lost this legend to Alzheimers about 5 years ago.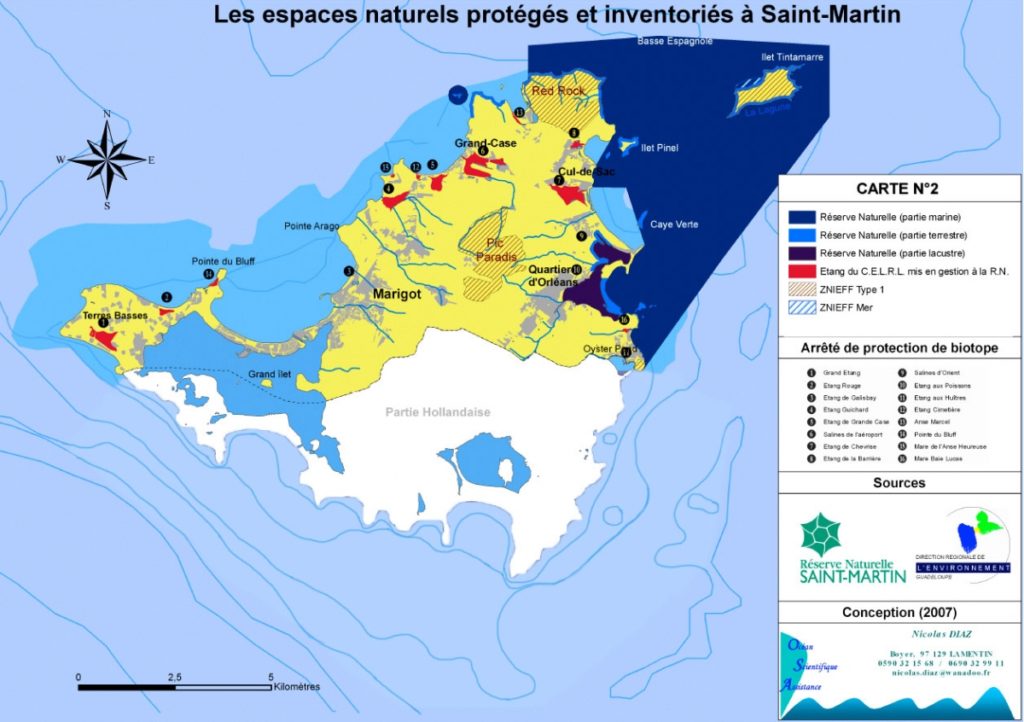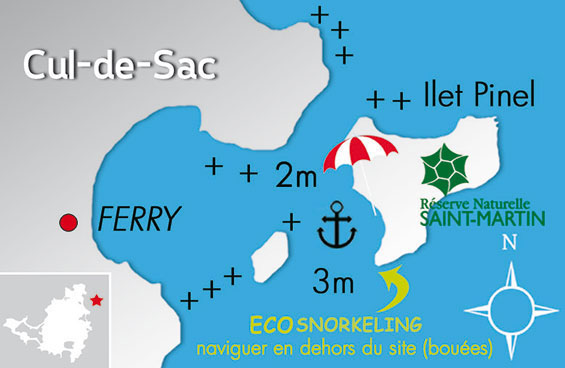 WHAT TO DO
ON THE LEEWARD BEACH
Thankfully you can still shop at the boutique for beautiful trinkets and memorabilias, as his daughter now runs it. The island also offers snorkeling and swimming in clear waters, as well as some short trails to walk around the island.
Most visitors however come to spend the day knee deep in the water with a drink in hand. Parents will appreciate the 2ft warm water free of current along the beach where children can play safely. Both locals with their private boats as well as visitors can enjoy the standing tables that are in the water on which one can enjoy drinks and food from the restaurants.
Those who prefer a sit down lunch can do so at either Karibuni or Yellow Beach. Karibuni has been since around 1988, and has over the years remained an intimate and beautiful location with great food. They are located on the west side of the island, whereas Yellow Beach faces South. Yellow beach also offers a great lunch, slightly more burgers-and-fries style, and their restaurant is slightly larger scaled with picnic style tables.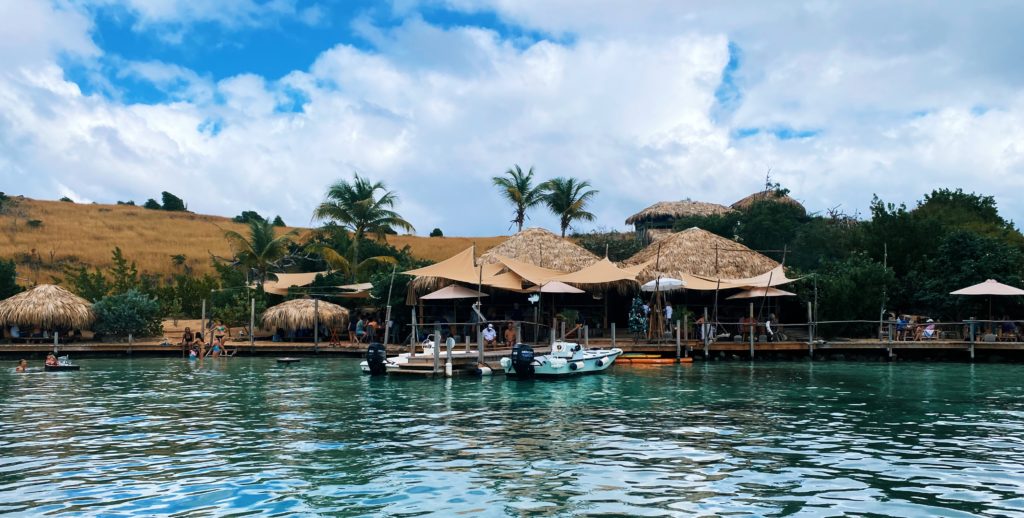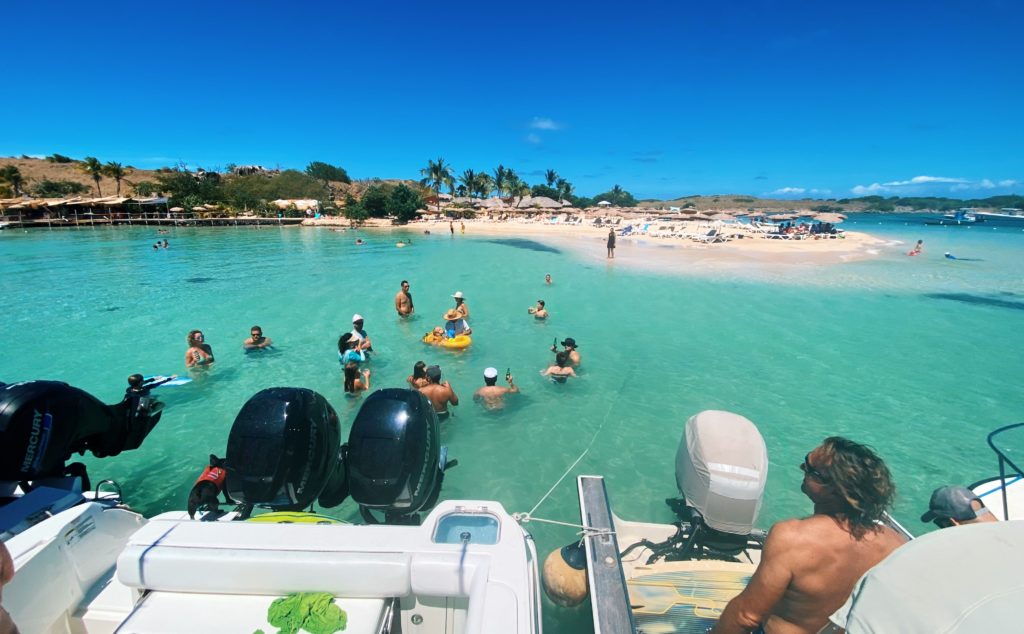 EXPLORING
On the windier side of the island is another, less populated, stony beach. It is about a 10-minute walk through the coastal heath on a path which winds its way across the islet.
SNORKELING
As per the Saint Martin tourism office: "Pinel Island is also a magnificent spot for snorkeling enthusiasts. The Nature Reserve's underwater snorkeling trail starts at the shuttle-boat landing jetty. It promises an underwater exploration full of discoveries. You'll be able to see some of the most beautiful marine creatures where the waters of the sandy, sheltered cove meet the waves that roll onto the wild beach. Turtles, conch snails and tons of multicolored fish are easy to spot at depths of 15 to 30 feet." You can read more on what to do on Pinel on their website www.st-martin.org/us/learn-more/must-sees/saint-martins-pinel-island/
HOW TO GET THERE
Pinel is accessible by private boat or ferry, and some also opt to kayak or paddleboard their way over from the dock in French Cul-de Sac, allowing them to further explore around the island.
KAYAK:
If you don't have your own gear, you can pre-book you kayak at www.caribbeanpaddling.com
The ride over can take anywhere from 10-40 minutes, depending on wind direction, weather conditions and personal fitness.
FERRY:

Departure: the dock in French Cul-de-Sac, every 30 min
Costs: $12 or 10 Euro return ticket p.p.
Duration: 5-10 min (weather dependant)
Schedule: mon-sun 09:00 – 16:30/17:00 last ferry back from Pinel
Reservation: not needed
PARKING
Entering French Cul-de-Sac, you will find a large car park, where you can leave your car for free for the duration of your stay on Pinel.
MARINE PARK
As mentioned before, Pinel Island is part of the 'Reserve Naturelle de Saint-Martin' and is thus under strict regulations which are to be respected by all visitors To see the full regulations, see below pdf in English.