Enjoy your day charter with our Premium Cocktail Bar which includes an interesting selection of topshelf liquors as well as our four signature cocktails.
As there are no good meals without good drinks, our hostess will pair your 4-course Gourmet Lunch with top French wines and will also make you craft cocktails.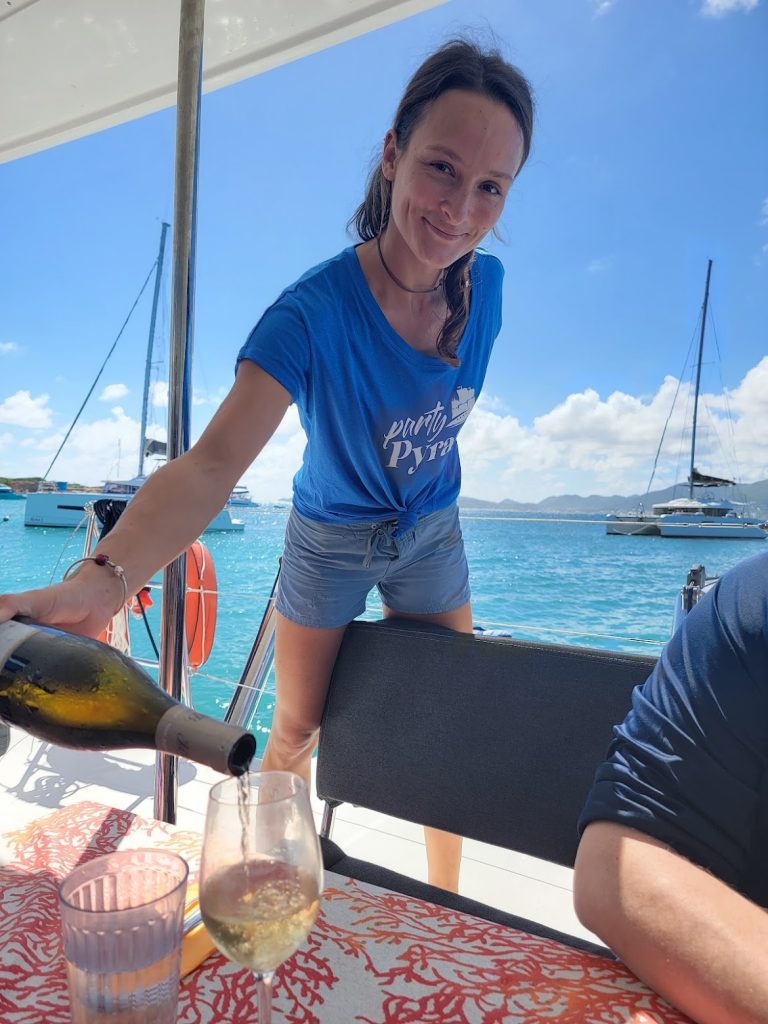 Before starting Pyratz Gourmet Sailing with her partner Max, Alisson extended her already strong passion for good wine in her previous job as a French wine & spirits brand manager in Texas, USA. She did this for two years before making her way to the Caribbean with her wealth of wine and cocktail knowledge, which she uses to contineously improve the Pyratz pairing menu onboard each of our four boats in the fleet.
One (of many) things that Alisson and Max have in common, is that they always strive to bring the best culinary experience to the table.
Here is our 2023 drinks menus; we hope you enjoy your charter with our signature cocktails which are each year creatively put together.
---
PYRATZ DRINK MENU
---
OPEN BAR
French Rosé
Maison Charlotte, Belle Cuvée – Côtes de Provence
Craft Signature Cocktails
French Kiss –
A sweet & fruity cocktail with Absolut vodka infused Pink Peppercorn & Cinnamon, strawberry syrup, fresh raspberries & spices & fresh lemon juice
Tea- Punch – Tea with a punch!:
A punchy black tea served with Plantation Rum Grand Reserve, peach liqueur & a mix of lemon & lime
From Paris to SXM 2.0 – The new and improved Cocktail of the house:
Refreshing cocktail with Citadelle gin, cucumber, elderflower & fresh basil from the garden.
Naughty Miss Marge – A margarita with a punch:
Refreshing and spicy cocktail with Tequila, Chartreuse, cucumber, coriander & Jalapeño ice cube
Beers
Carib
Corona
INCLUDED GOURMET PAIRING
Fine French Wines Pairing
Selection of the day
Local Rum tasting
Selection of 3 locally made rums
ADDITIONAL OPTIONS
Champagne (+$100 for one bottle)
Louis Roederer, Brut Premier
Independent and family-run Champagne House founded in 1833
Aged Rhums Prestige Collection (+$30 per person)
Selection of 3 Aged Rhums from the Caribbean
---
Our aim is to make sure you have the best experience, whether it be on board or on the beach. And if that includes a drinks delivery, then your crew will make it happen!
Enjoy your charter onboard one of our Catamarans or powerboats with their premium cocktail bar and try one of our delicious cocktails, or let us know what your favourite drink is! Here you can see one of our beach deliveries of Caribbean Gin & Tonics, directly delivered to our guests at Little Bay beach in Anguilla. Discover what people think about our cocktails.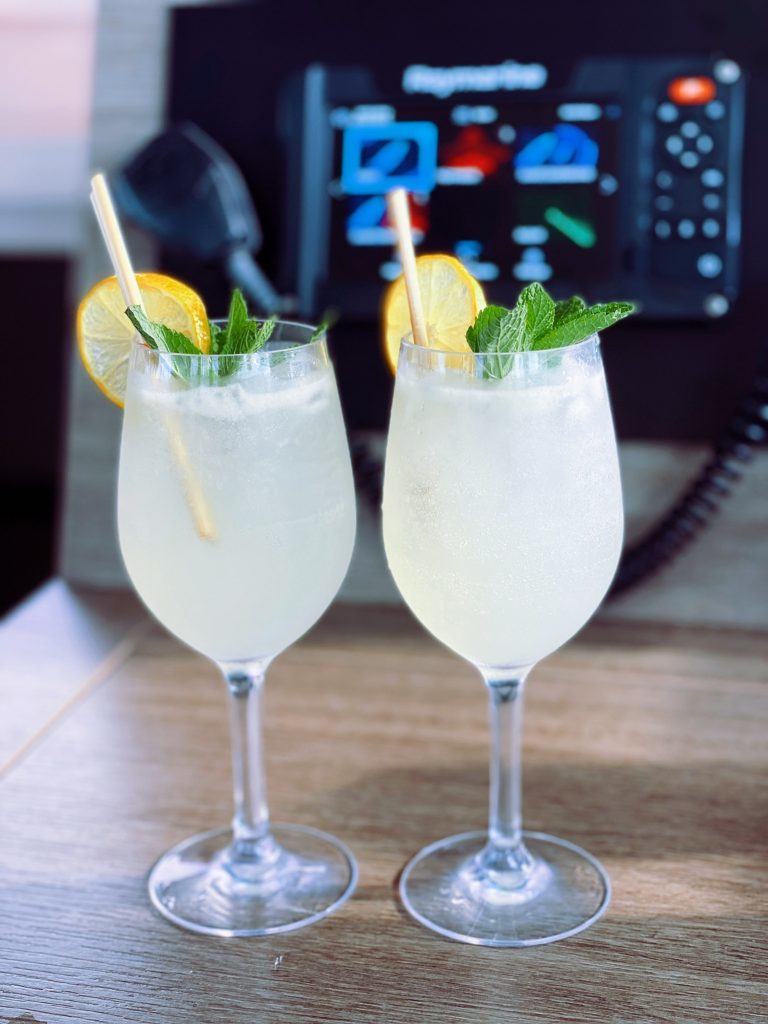 At PYRATZ, we believe that eating and drinking well is the beginning of a great journey. therefore, We create a surrounding to live real and authentic moments of conviviality at sea.
GO TO THE NEXT SECTION: THE PYRATZ ACTIVITIES