Enjoy an Authentic Food Experience onboard during any of our charters around St Maarten, Anguilla and St Barth. Whether you choose our staple dish of fresh lobster on the grill – cooked right in front of you – or one of our other options, Pyratz is filled with passion for gastronomy, and thus your dining experience will be one to remember.
Our trips offer different menus, from 4-course gourmet dining options to a gourmet tapas menu. We work with local fishermen and the best fresh produce available on island. Of course, we also offer tasteful vegan et glutenfree options. Click below to see our 2023 menu.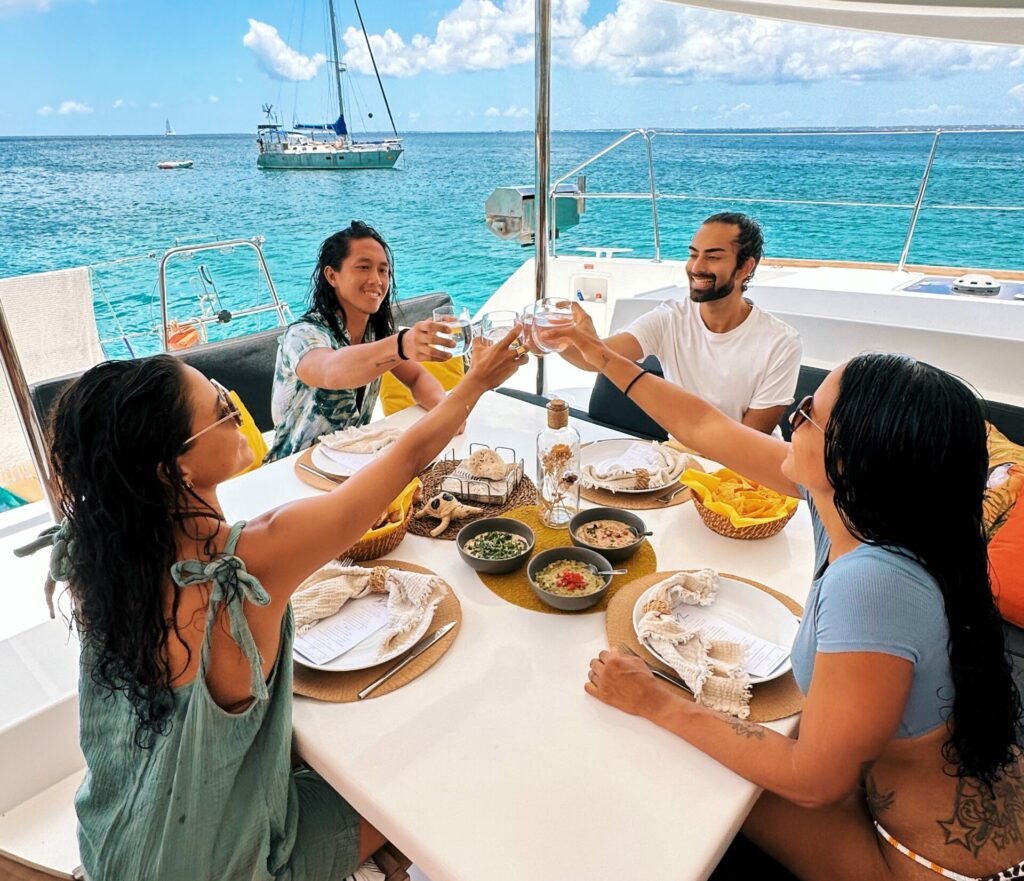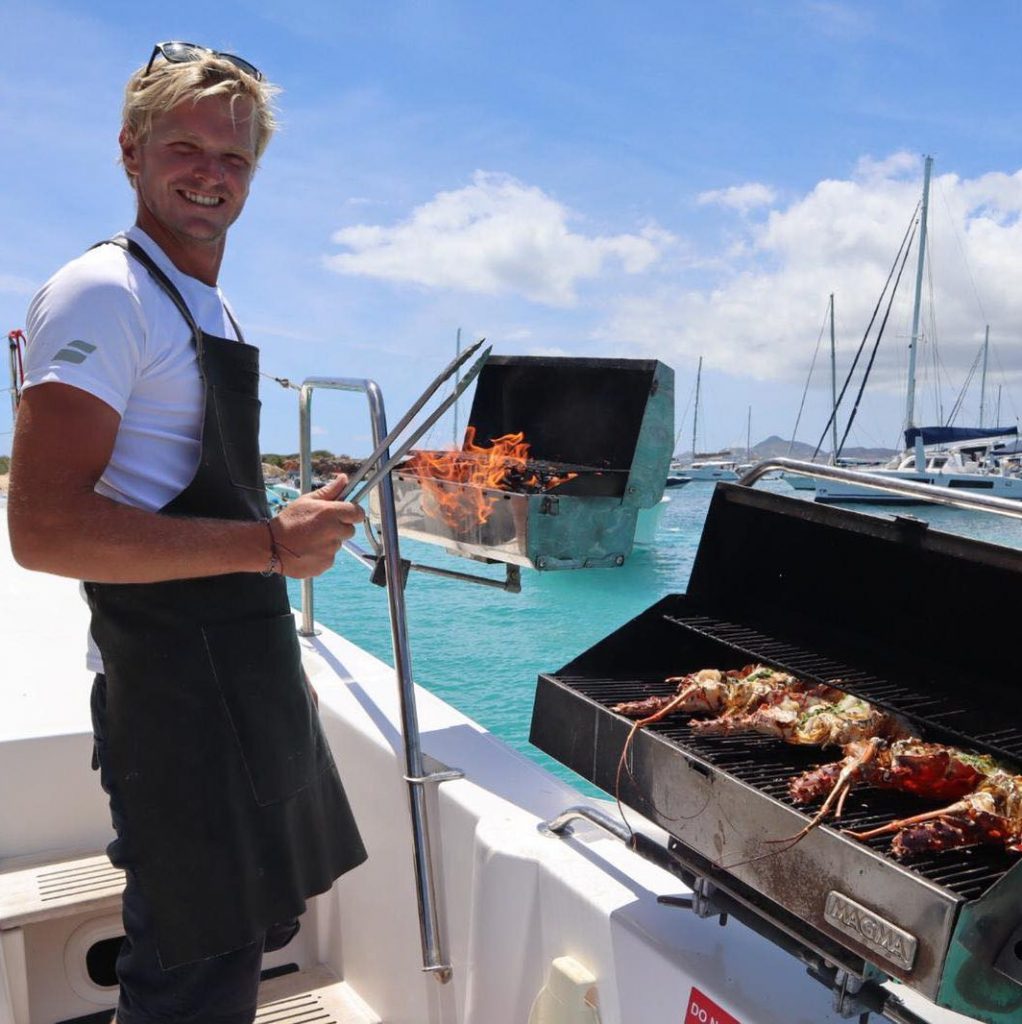 ---
Pyratz Dining options
---
WHAT IS ON THE MENU
***
Amuse-Bouches

Eggplant caviar – Smokey mozarella skewers – Caribean pita bite
***
Trilogie d'entrées

Quinoa Salad with beetroot, grilled pistachos, tangerine, dried tomatoes, cucumber, goatcheese

Mango tuna tartar with passion fruit espuma

Lobster chipotle Bite with wakame, mango, lettuce, tobiko
***
Plat
Half fresh grilled lobster*
served with our homemade chimichurri butter , served with balsamic roasted veggies, aromatic rice
OU
Local catch of the day
stuffed with mushrooms, lobster espuma, served with balsamic roasted veggies, white truffle & carrot mash
OU
Chicken Ballotine
rolled in goat cheese, basil leaves and berries, served with balsamic roasted veggies, white truffle & carrot mash
OU
Layered veggie patty (vegetarian – vegan option upon request)
falafal base, eggplant, avocado, roasted cherry tomatoes, crispy kale & chickpeas, aïoli, served with balsamic roasted veggies, white truffle & carrot mash
OU
Ribeye for two (only possible to order per 2 persons)
Angus ribeye steak, garlic, thyme, chimichurri sauce, served with balsamic roasted veggies, white truffle & carrot mash
–

***
Dessert
Homemade Browkie
chocolate brownie meets pecan nut cookie, served with locally made vanilla ice cream
OU
Coconut Flan
salted butter caramel, served with homemadepassionfruit sorbet
–
Accord mets & vins inclus
*Sous réserve de disponibilité de langouste sur l'île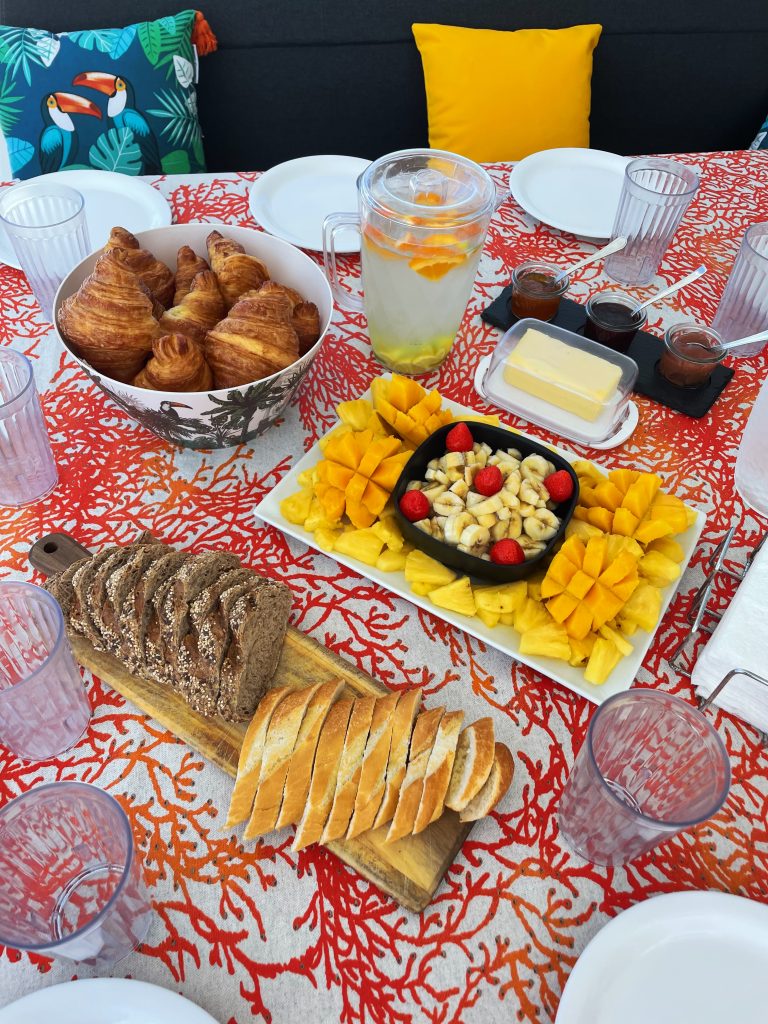 Nous sommes là pour répondre à vos besoins !
Exemple d'un plat vegan que nous pouvons préparer
Si vous avez des allergies, n'hésitez pas à nous en faire part. En outre, des options végétariennes, végétaliennes et/ou sans gluten sont disponibles à bord.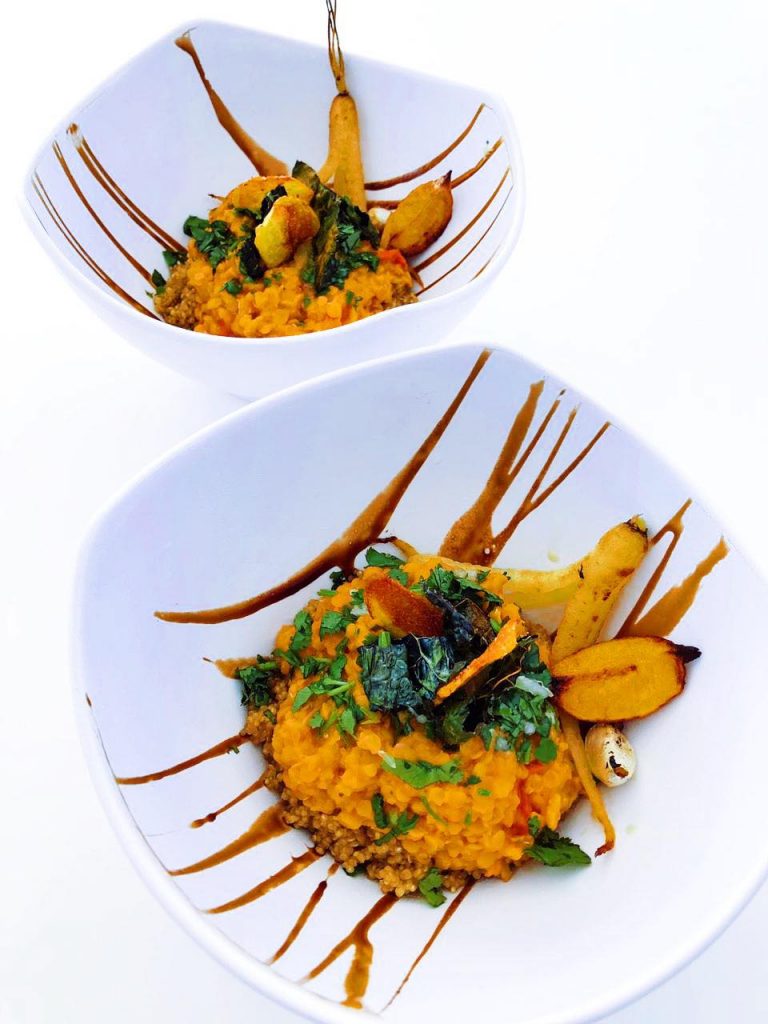 Déjeuner Partagé
Si vous souhaitez partager votre expérience culinaire avec vos amis ou votre famille, ou si vous êtes simplement un client curieux et gourmand, la solution idéale est un déjeuner partagé ! Votre groupe pourra ainsi goûter à tous nos différents plats.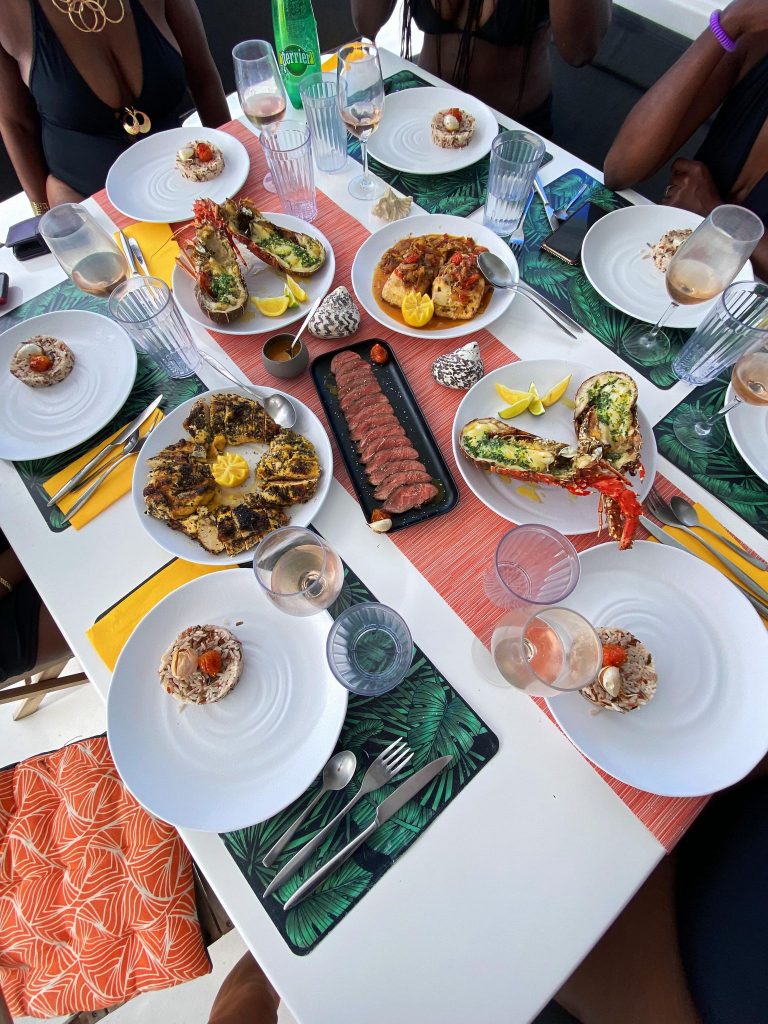 Nous espérons que cela vous a donné l'eau à la bouche ! Vous pouvez aussi aller sur notre story permanente "GOURMET" sur Instagram. Elle vous expliquera toute l'expérience culinaire à bord. Aussi, nous vous invitons à regarder ce que pensent nos clients de leur déjeuner gastronomique en 4 services.
VOIR LES DISPONIBILITÉS & RÉSERVER MAINTENANT
ALLER À LA SECTION SUIVANTE: LE BAR PYRATZ