Since we set up on the island of Saint Martin / Sint Maarten, we have been amazed by the sunsets! There is something magical about SXM Sunsets. Every evening is a new, different, always splendid spectacle. There is no doubt that everyone visiting the island should add a Sunset Experience on their "Best things to do in Saint Martin" list.
With this in mind, Pyratz Gourmet Sailing decided to launch its Croisière au Couché du Soleil! Whether you are visiting St Martin and looking for an authentic experience, or living on the island and looking to spend some quality time with friends or family after your day at work, the CSC has been designed to allow all guests to find the pleasure they seek.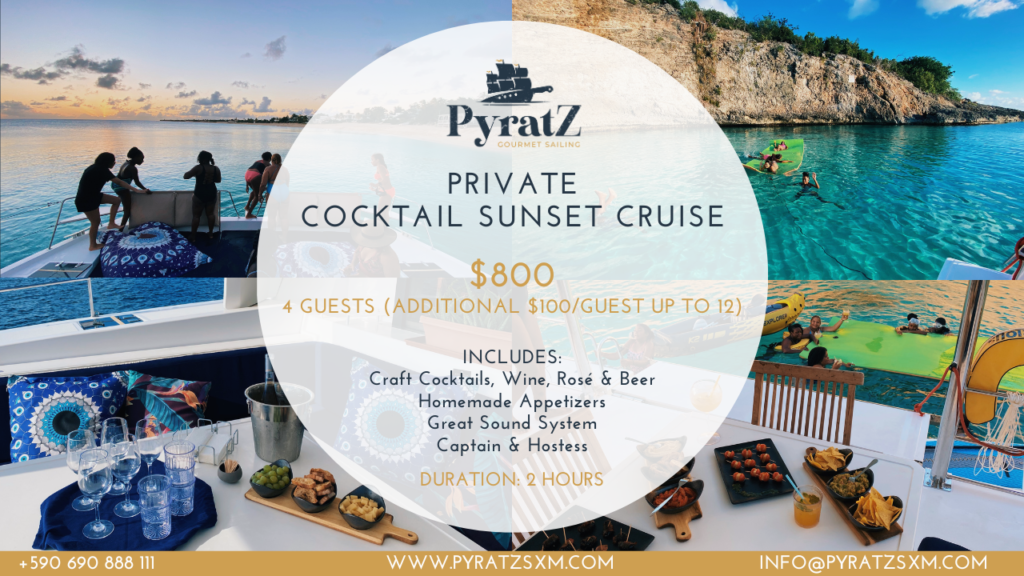 Relax and escape the stress of everyday life by laying down on one of our confortable cushions, sipping our Signature Cocktails, and watching the golden sun setting upon the Caribbean sea.
Party and dance on the spacious deck of our catamaran, listening the music from our great sound system, feeling the sea breeze on your skin and enjoying complete privacy.
Enjoy a Gourmet Experience at Sunset by tasting Homemade Amuse-Bouches et Craft Signatures Cocktails served by your hostess during the entire duration of your Croisière au Couché du Soleil.
Let us make this CSC a Romantic Getaway for you and your better half!
Nos Croisières au Couché du Soleil durent 3 hours long. After picking you up in Simpson Bay, we will cruise on the south-west tip of the island, to two of the most beautiful beaches of Saint Martin, Red Bay (Baie Rouge) and Long Bay (Baie Longue).
Amuses-Bouches
Guacamole & Hummus Dips
Cherry Tomato, Mozzarella & homemade Pesto Brochette
Conté Cheese & Grape Brochette
Marinated Red Bell Peppers & Goat Cheese Toast
Endives & Blue Cheese Mousse
Prunes & crispy bacon candy
Cocktails
Tropical Gin & Tonic
Tanqueray Gin, Lime Juice, Passion Fruit, Mint
Piña Colada
Trois Rivières Rhum Ambré, Coconut Cream, Pineapple Juice, Spices
Ocean Daquiri
Trois Rivières Rhum Cuvée de l'Océan, Lime Juice, Sugarcane Syrup, Sea-salt
Rhum Punch of the day

We are running a special for Sxm residents! To privatize the catamaran for a cocktail sunset cruise, price is $600 for group of maximum 10 passengers (starting at $60 per person).
For bookings, you can contact Pyratz Gourmet Sailing by phone or email: +590 690 19 79 61 / info@pyratzsxm.com.