our Bali 4.5 Power Catamaran ever glorious
You will fall in love with Ever Glorious' sunbathing area on the front, so spacious and confortable! This is also where the large table is set up and where you will eat our 4-course Gourmet Lunch. Don't worry, we can install a sunshade to shelter you from the sun. Ever Glorious is definitely the ideal choice for big groups (up to 12 guests) if you want to organize special events such as birthday, bachelorette parties and so on… Parents will also love her for their toddlers who can freely play in the lounging area.
If you want to discover the story of Ever Glorious, click here.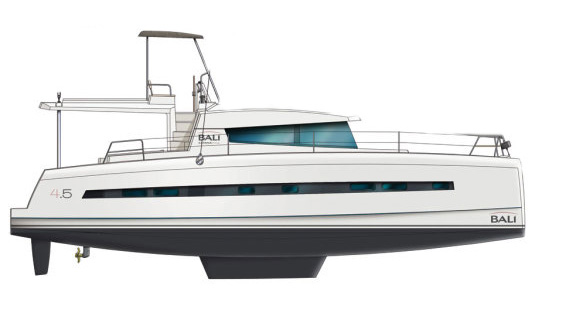 1 Sunbathing area on the roof
1 Sunbathing and lounge area at the bow
2 Outside seating areas for lunch (stern and bow), comfortable for up to 12 guests
1 Fusion Sound System 1600 watts (can be set up separately inside and outside the boat)
2 Beanbags
3 Showers (one available during day charter)
3 Restrooms and cabins (one available during day charter)
1 Deck shower
Onboard watersports (1 paddle, 1 kayak, 1 floating mat and snorkeling gears)
4 Solar panels
2 Low Consumption Yanmar 80c engines
Length: 13.50 meters
Width: 7.42 meters